We are now open for Walk-A-Paca Farm Tours!
The rest of our website is under construction but don't let that stop you from booking below.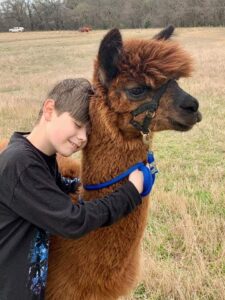 Alpacas are like the teddybears of the camel family.  There's no better way to discover TX-Ture Farm than a Walk-A-Paca Farm Tour where these amazing animals join you for a walk through a farm full of texture.
WHAT IS INCLUDED 
Upon arrival, you will sign in at our shop.  We will then make our way to the alpaca barn for a brief safety discussion while we halter the alpacas.  Each walker receives an alpaca feed pouch.  They love their treats! 
And, the tour begins.  There will be plenty of time to cuddle and take photos.  You will: 
Learn fun things about alpacas and how we process and use their fleece

Visit our lavender fields and learn about lavender farming (May-June peak season)

Visit our apiary and learn about beekeeping and local honey production

Visit one of our Christmas tree fields and encourage them to grown

Walk one of our wooded trails and discuss the farm's wildlife 

See how our many varieties of gourds are grown, process and used
The tour wraps up at the alpaca barn where we started.  You can then visit our shop for products produced here on the farm.
GROUP SIZE & PRICING
For COVID safety, your tour will be private for your family or friends.  We will not combine other guests with your tour.   $75 for up to 6 people.
FAQ
What are your COVID precautions? 
If you or someone in your household has been exposed to COVID or is ill, please stay home and reschedule your visit.  We will do the same for you.

Your reservation is private for your family.  You will not be placed with other guests.

While masks are respected, they are not required for this outdoor activity. 

A hand sanitizing station is available before and after the Walk-A-Paca Experience. 
What should I wear?  
CLOSED TOE SHOES ARE STRONGLY RECOMMENDED.  Wear comfortable clothing that is suitable for outdoors.  If it has rained, the property does get muddy and waterproof shoes may be recommended.  
What are your age restrictions?
Children younger than 8 must have adult assistance holding the alpaca's lead

Children younger than 16 must be accompanied by a paying adult
Can I walk for free since I don't want to hold the lead?  
No spectators as this is still a tour and it wouldn't be fair to our paying guests. 
Can we pet the alpacas?  
Yes.  Who can resist?  They are like the teddybears of the camel family.
Do alpacas kick?  
While rare, yes alpacas occasionally kick when they feel threatened from the rear.  Your tour begins with a safety discussion.
Do alpacas spit?  
Yes.  Alpacas spit at each other when they feel threatened or they are competing for food.  While it's quite rare for our alpacas to spit at humans, we do occasionally get caught in the cross-fire.
Can I bring my dog?  
No.  Please leave your pet at home and not in the parked car.  Alpacas and dogs don't mix and may result in injury to animals or humans.
Are strollers allowed?  
No.  They stress the alpacas and become a risk to both the alpaca and humans.
How many alpacas walk with us?  
3-4 alpacas will accompany you depending on the group and conditions on the farm.
How does weather affect our Walk-A-Paca Farm Tour?  
We will reschedule your Walk-A-Paca Farm Tour in the event of:
Heavy rain

Severe thunderstorm warnings or tornado warnings

Freezing temperatures, though the alpacas love it.

We don't walk alpaca when the heat index reaches about 85F (generally late May thru early Sep).  Imagine wearing a ski coat and thermals when everyone else is in shorts. 
I can't come.  Is my reservation transferable?  
Yes.  The Walk-A-Paca Farm Tour also makes a wonderfully unique gift.  
---
We reserve the right to refuse you participation in the Walk-A-Paca Farm Tour if we feel it is a risk to your own safety, our animals, or others.  If this happens no refund will be given.
---