Gourdgeous Pumpkin Festival Vendor Application
Event Date: Oct 23 & 24, 2021 10:00AM – 4:00PM
Location: TX-Ture Farm LLC, 1833 Dr Sanders Rd, Cross Roads TX 76227 TX
Contacts: Russell & Annemiek Foster mail@tx-ture.farm; phone (940) 343-5054
Schedule:
Fri Oct 22
12:00pm – 5:00pm:  Vendor setup (optional)
Sat Oct 23
6:30am – 9:30am: Vendor setup.  All vendor cars removed from festival area.
10:00am – 4:00pm: Gate opens to the public
Sun Oct 24
10:00am – 4:00pm: Gate opens to the public
4:00pm:  Vender tear-down (no tear-down prior to this time)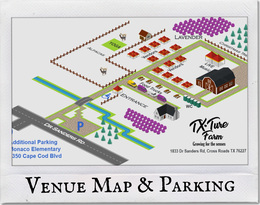 New to Benefit You!
Online tickets are now 2-Day Passes to increase traffic
You can save $20 on your booth space by helping to make our festivals more interactive.  Demonstrate your skill or offer an interactive DIY activity for visitors to try.
Electricity
---

Add your own scarecrow display to our Scarecrow trail and have your fun message seen by all who attend and compete for Best-in-Show.
---
Policies & Hold Harmless Agreement
TX-Ture Farm LLC reserves the right to amend the vendor rules at any time.
COVID-19:
We, and our vendors, will follow The State of Texas guidelines applicable at the time of the event.
Cancellations & Refunds:
Cancelled Events
If an event is canceled due to weather or other circumstances, no action is required we will issue a refund to the original method of payment used at time of purchase.
Vendor Initiated Cancellations
Cancellations must be received in writing at least 72 hours before the event. Send cancellation requests to mail@tx-ture.farm or phone 940-343-5054.
Cancellation Options
Full refund minus the processing fees when cancelled more than 72 hours before the event
Credit toward a future event when requested less than 72 hours before the event
No-shows are not eligible for credit or refund
Vendor Policy:
Vendors may NOT assign this contract or their space or sublet all or any part of their space.
This is an autumn-themed artisan product and crafts event.  Every effort will be made to assure that handmade and local items are showcased. However commercial and direct sale items may be allowed as long as they are aligned to the festival theme.
No mass produced or resale merchandise such as MLMs, oriental trader, etc.
No political merchandise.
Each vendor assumes responsibility for complying with and collection of any required sales taxes or licensing laws.
Vehicles will not be permitted in or out of the event areas while gate is open to the public due to pedestrian safety. Please notify us if you plan to bring a trailer.
Vendors are solely responsible for any damages resulting from their sale or demonstration of their goods.
Spaces.  Vendors to supply their own tents, tables, chairs, etc.  Spaces consist of:

10'x10′ outdoor lawn space 

10'x10′ indoor spaces are reserved for Visual Arts of Prosper and Dallas Gourd Patch

10'x10′ Food/Beverage tent space 

Food/Beverage truck or trailer

Vendors must clean up their areas at the end of the event and pack out any trash.
Vendors will conduct themselves in a professional and lawful manner. Vendors must treat customers, staff, volunteers, and other vendors with respect.
TX-Ture Farm LLC reserves the right to cancel any vendor's participation when the vendor is found to be in violation of any market rule or eligibility requirements.
Food & Beverage (F&B) Vendors:
TX-Ture Farm falls in the jurisdiction of the Texas Dept. of State Health Services.  Temporary event permit details can be acquired here.  TX-Ture Farm has reduced our food vendor fee to offset your temporary permit expense.
All food vendors must provide copies of applicable permits prior to the event. Vendors must display necessary permits as required by the Texas Dept. of State Health Services.
All food vendors must be equipped with a fire extinguisher.
Hold Harmless Agreement:
I (Hereinafter referred to as Vendor) in consideration of being provided selling, demonstration, or teaching space at the TX-Ture Farm, agree to the following terms and conditions:
Vendor shall indemnify, defend and hold harmless TX-Ture Farm LLC, TX-Ture Farm LLC agents, servants, employees and volunteers from and against any and all loss, damages, liability, claims, suits, costs and expenses, whatsoever, including reasonable attorney's fees, regardless of the merit or outcome of any such claim or suit, arising from or in any manner connected to the misconduct or negligent acts, errors, or omissions of Vendor, its agents and employees, in connection with Vendor's participation in the Gourdgeous Pumpkin Festival and in the performance of services, work or activities under this agreement.

Vendor acknowledges receipt of and agrees to comply with each and every rule, regulation, procedure, term and condition set forth in the North Texas Lavender Festival hosted by TX-Ture Farm Vendor Policies.
Vendor Application
Duration: 2 days 
Payment: Invoiced upon acceptance
Vendor applications for this event are closed.  Thank you for your interest.