Photos by Sarah Walton
Shearing Fest – Alpacas & Artisans
Apr 2 2022 9:00 AM – 3:00 PM  |  TX-Ture Farm 1833 Dr Sanders Rd, Aubrey TX 76227
---
The alpaca's coats are coming off!  Come celebrate the fleece harvest with demonstrations, local artisans, live music, food, and fun activities.
What to expect
North Texas Alpaca Owners:  TX-Ture Farm • Rockin' Y Ranch • Cross Creek Ranch • 29 Acres
Alpaca Shearing:  9:00AM-12:00PM.  Mark Loffhagen returns from New Zealand and will work with local FFA students and demonstrate the art of shearing.
Fiber Processing & Spinning Demos:  TBA
Art/Craft Vendors & Demos: TX-Ture Farm is proud to have a vendor market of local, handmade arts and crafts.
Live Music Schedule: TBA
Alpaca Yoga:  Experience yoga, as never experienced before!  Yoga with alpacas allows you a full hour, true all levels vinyasa class, outdoors with the alpacas.  Heather Liner instructor.  $10/person online or onsite.  Bring your mat if you can.
Aerial Fitness Demo:  TBA
Kids Story Time & Paca Tattoos:
Pictures with Pacas:
Barnyard Games:  Challenge your friends to a game of barnyard Cornhole, Jumbo Jenga, or Jumbo Connect Four.
Festival Food & Beverage:  Local craft beers & food trucks.
No Dogs Allowed:  While we love dogs, they will add to the alpaca's stress.  Please keep them at home today.
No Outside Food/Drinks:  Please support our local food vendors.  Paca-picnic will be held on another date.
Venue Map: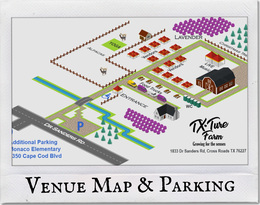 ---
Please support our vendors who make this possible