National Alpaca Farm Days – Open House
September 23 & 24, 2023 9:00AM – 1:30PM  |  TX-Ture Farm 1833 Dr Sanders Rd, Aubrey TX 76227
---
Join us as we celebrate National Alpaca Farm Days! We are opening our farm to the public for a leisure day of fun activities for alpaca lovers of all ages.
Alpaca Yoga!
Join the herd for a one-of-a-kind, close-up experience. Strike a pose for an amazing selfie. Book online, classes fill quickly. $35/person at 9:30AM and 11:00AM both Saturday and Sunday. Read more about Alpaca Yoga.
Paca Selfies!
You will have plenty of opportunities for a selfie with alpacas.
Feed a Paca!
Learn about alpacas and see how they love their treats!
Paca-Express!
Take a fun ride on the Paca Express kids barrel train! The kid's journey begins in the barnyard, where they receive the golden Paca Express ticket, and travels through the Christmas tree farm. $3/child.
Alpaca Products
Available in our shop
Barnyard Games
Challenge your friends to a game of Cornhole, Jumbo Jenga, or Jumbo Connect Four
Paca Pub
Beer, wine, lavender prosecco, sodas available for purchase.
Alpaca Fun Facts
Alpacas are a member of the camelid family and originated from South America.
Alpacas were first imported to the United States in 1984.
Alpacas live to be 15-20 years old.
Alpacas weigh between 100-200 pounds and are about 36″ high at the withers.
Alpacas produce 5-10 pounds of fleece per year.
Alpaca fleece is as soft as cashmere and warmer, lighter, and stonger than wool. It comes in 22 natural colors.
Alpacas eat about 2 pounds of gras and hay per day and chew a cud.
Alpacas are very quiet. They may make a humming noise to communicate or occasional shrill sound to send an alarm.
Alpacas come in two breeds:

Huacaya (wuh-KAI-ya), fleecs is fluffy, crimpy, and teddy bear-like.
Suri (SUR-ee), fleece is silky and lustrous with pencil-locks.
Alpacas vs Llamas
Alpacas
Size – Small 150lbs, 36″ tall
Appearance – Short, blunt snout. Long fur on face and head. Short, pointy ears.
Personality – Alpacas are very herd oriented, timid and will likely run from you
Fiber – Soft fiber for clothing
Strength – Alpacas are not suited to carry or pull loads
Llamas
Size – Large 300lbs and 46″ tall
Appearance – Long snout. Short fur on face and head. Long bannana-shaped ears.
Personality – Llamas are independant, confident, and may run through you.
Fiber – Course fiber suited for rugs, ropes, etc.
Strength – Well suited to carry a pack or pull loads
Visit Alpaca Owner's Association to learn more about alpacas and National Alpaca Farm Days.
Learn more about our herd.
POLICIES
Parking: Onsite parking is free.
No Outside Food & Drink: We have snacks and beverages available for purchase.
No Littering: We take great pride in the care of our farm, so please utilize the available trash receptacles.
No Smoking: Although we are in a large outdoor setting, please refrain from smoking on our property for the comfort and safety of our guests. Dry grass, hay and woodchips are abundant on the farm and are extremely flammable.
No Animals:

Except Trained Service Animals. They will stress the alpaca's and our guardian dogs are always on duty. Please keep them at home today.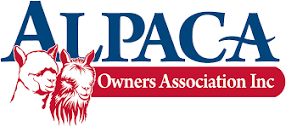 National Alpaca Farm Days – National Alpaca Farm Days – National Alpaca Farm Days