Forging Texas Festival
Nov 13 – 14 2021 9:00 AM – 4:00 PM  |  TX-Ture Farm 1833 Dr Sanders Rd, Cross Roads TX 76227
---
TX-Ture Farm will be home to a barnyard full of blacksmiths, chuck wagons, old-world artisans, live music, beer, and more…!
Join us for:
Blacksmiths
Axe Throwing
FREE Gourd Crafts
Artist / Craft Vendors
Demonstrations
Hay Rack Rides
Alpaca Yoga
LIVE Music
Chuck Wagons &
Dutch Oven Cooking
Blacksmiths:  Demonstrations and education.
Gourd Crafts:  The Dallas Gourd Patch will have FREE instructional activities with gourds.
Hay Rack Rides:  FREE!  Climb aboard our 1951 Montgomery Wards mail-order hay wagon for a trip around the farm.
Axe Throwing:  To be announced
Live Music Schedule:
Saturday:  • to be announced
Sunday:  • to be announced
Demonstrations:  To be announced
Alpaca Yoga:Experience yoga, as never experienced before!  Yoga with alpacas allows you a full hour, true all levels vinyasa class, outdoors with the alpacas.  Heather Liner instructor.  $10/person online or onsite. Bring your mat if you can.
Dogs Welcome:  Leashed, well behaved dog are allowed.  Alpacas fear dogs so please remove them if they bark at the alpacas.  Owners must clean up after their dogs.  Waste bags are not provided.
Venue Map: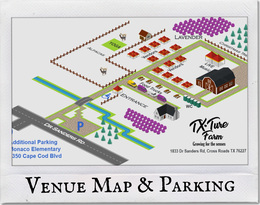 ---
Please support our vendors who make this possible
Artisan Vendors
(coming soon)
Food & Beverage
(coming soon)
Dallas Gourd Patch Artists