Blacksmith Classes
May 7, 8 and 9 at 8:00AM-5:00PM  |  TX-Ture Farm, 1833 Dr Sanders Rd, Aubrey TX 76227
---
This is your opportunity to join a hands-on class with blacksmith Mark Ling, ABANA 2022 Tool Smith Demonstrator.  Immediately before the ABANA conference, Mark is offering 3 one-day classes outlined below.  Classes will be held a short distance from the ABANA conference location.
---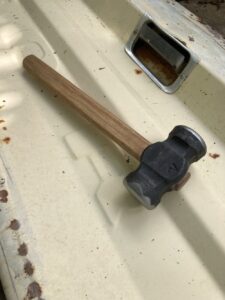 Hammer Making & Hand Forging Techniques
Saturday May 7 – $250
In this class you will be working in pairs to complete the forging of a 3.5lb (or lighter weight if you choose) rounding hammer that will then be used later in the class for smaller hand forged items to learn basic techniques of using this style hammer.
Some of what will be covered in this class will include:
Striking and directing
Basic fire management
Punching/drifting tool eyes
Heat treating/handling
Proper hammer face grinding
The versatility and functionality of the rounding hammer
Rounding hammer techniques applied to various hand forging applications
The forging principles as they are applied within the application at hand
The hammer made in this class may not fully resemble the "classic rounding hammer", but is a simpler version while still keeping the same functionality as one that is further forged. This will allow for more time once the hammer is completed, to be spent towards instruction and application of this style hammer. This may be practiced through the forging of different items that will be taught, including different leaf styles, flowers, and hearts, but first focusing on specific techniques that are the foundation of blacksmithing.
Because this class can have a larger physical strain and risk involved due to the striking, we have a minimum age limit of 16, though no prior experience is needed to take this class.
---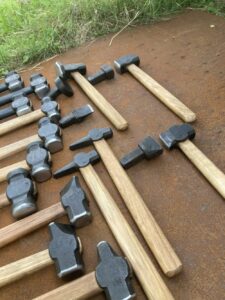 Forging Hand tools & Hand Tool Techniques
Sunday May 8 – $250
This is a techniques based class where the techniques learned will be applied to the forging of various hand tools, and further by using these tools in different hand forgings. Each student will leave with at least 7 hand tools, including but not limited to: small ball fuller, large ball fuller, nose punch, animal eye punch, fuller, chisel, and slot punch.
The student will then use these tools to complete the forging of a horsehead bottle opener and/or fullered leaf and/or flower.
Some of what will be covered in this class will include:
Heat treating hand tools
The proper grind for various hand tools
Forging tapers through the application of reducing surface area by creating and bisecting angles
Fire management
Proper approach to the anvil and hammer swing
The function of each hand tool explained and demonstrated by the application of each tool.
Changing cross section and profile of a bar
The principles of forging
There is no previous experienced required for these classes, but there is an age limit of no one younger than 13.
---
Scrolling & Collaring Applied to Making a Trivet
Monday May 9 – $250
This is a techniques based class focused around scrolling and collaring. These techniques will them be applied to the making of a trivet/grill. This is a really neat class, because it causes these techniques to become so simple and approachable. Each student will leave with a completed trivet.
Some of what will be covered in this class will include-
Calculating collar length
Scrolling
Joining using collars
Different types of scrolls
The use and importance of hit sequences for consistent and efficient forging
Cutting stock using a tailgate shear
The use of jigs
Proper approach to the anvil and hammer swing
Principles of forging
There is no previous experienced required for these classes, but there is an age limit of no one younger than 13.
---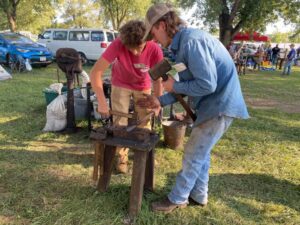 Instructor
Mark Ling is a 19 year old blacksmith in College Station, Texas who began blacksmithing at the age of 11 after having the desire to make his own knife. Since then he has had the chance of working with many other more knowledgeable smiths, who influenced him to the style and type of forging he now does. Mark currently forges tools for the blacksmith, bladesmith, and farrier, as well as offering classes teaching the techniques involved in tool making, and other aspects of forging. While not forging tools, Mark takes the liberty to go back to doing some of the more creative hand forging projects that first got him interested.
ABANA President, Leigh Morrell wrote, "Mark Ling, is a young smith to keep in your sights. At age 19, he is articulate, communicative, and an all-around excellent demonstrator. I personally twisted his arm and he will be a demonstrator at the ABANA 2022 conference."   "You will not be disappointed! This young man is Good!"
Mark's GALLERY of work.
---
FAQ
What is included?
All tools and materials are provided
Coffee and lunch are provided
What do I need to bring?
Bring your own protective eyewear, gloves, hearing protection.
Bring your own forging apron if you wish to wear one.
Do you still have unanswered questions? Contact us at marksmetalworks02@gmail.com or (979) 450-3699
---
PAYMENT
The full price for each class is $250/person.  A deposit of $50 per person per class is required at the time of registration.  The balance in cash or credit card is due before class begins.
CANCELED EVENTS
If an event is canceled, no action is required to obtain a refund; we will issue a refund to the original method of payment used at time of purchase.
RESCHEDULED / POSTPONED EVENTS
If an event is postponed, rescheduled, or moved, your tickets are still valid for the new date and no further action is required. Emails will be sent to ticket holders notifying them of changes or refund options for that event.
ATTENDEE CANCELLATIONS
Cancellations must be received in writing 2 weeks before your scheduled event. Send cancellation requests to mail@tx-ture.farm.
CANCELLATION OPTIONS
If cancelled more than 2 weeks before the event, a full refund of your deposit minus the online booking fees will be provided
If cancelled less than 2 weeks before the event, your deposit will not be refunded unless we can fill your spot from the waitlist
No-shows are not eligible for credit or refund
HEALTH & SAFETY
We follow the current State of Texas and/or Denton Co. guidelines.  If no State or County mandate exists, then the following guidelines apply: 
Indoor/Outdoor Activities:  Masks are optional.  We respect personal choice.
Hand sanitizer is available in our shop and at the alpaca barn.