Alpaca Yoga!  Join the Fun
Multiple Dates & Times  |  TX-Ture Farm 1833 Dr Sanders Rd, Aubrey TX 76227
---
Contact us for private parties customized to fit your needs
Your alpaca yoga experience helps to support McKinney Reptile and Exotics Rescue!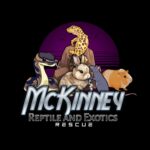 Experience yoga, as never experienced before…outdoors with alpacas!
Vinyasa yoga with alpacas allows you true all levels vinyasa class, outdoors with the alpacas. Allowing yourself the flow of yoga, and surrounding yourself in true beauty and nature, as alpacas surround you. After class, enjoy feeding the fluffy little ones and then celebrate with a complimentary glass of lavender prosecco* while you enjoy the farm.  This is a true experience to bring you strength, love, and joy.
Unlike goat yoga, alpacas have "restroom" areas and the alpaca yoga experience will not be near their bathrooms. Also, alpacas are not llamas. They are kind and gentle. This is truly a one of a kind experience. Please bring a yoga mat and a water bottle.
* Prosecco not offered when yoga takes place during events
Join TX-Ture Farm's  Alpaca Yoga Group on Facebook and share your photos.
About the Instructor
Heather Liner began her yoga journey after battling injuries and a neurological disorder. Through this, she found healing, relief, and regained strength.
Certifications include: RYT 200 and RYT 300 through North Texas Yoga, Aerial Yoga and Pole Fitness Certifications of Completion through Altitude Fitness, BUTI yoga, BUTI HotCore, BUTI Bands, BUTI Strength, and BUTI Deep through BUTI yoga. CFN (Certified Fitness Nutritionist) through NASM.
"I believe everyone is beautiful and strong, but most have lost the ability to see, feel, or accept that anymore. My goal is to help people reconnect with their personal beauty and strength, creating an everlasting self love."
In her spare time, Heather loves to hang out with her husband, 7 kids, millions of pets, off-roading in her Jeep, or running her reptile and exotic pet rescue.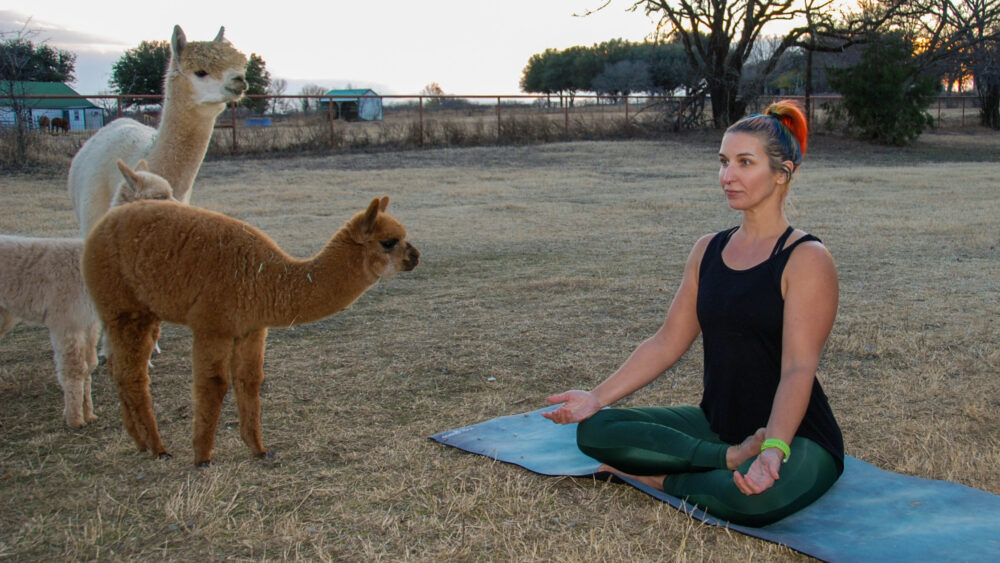 ---
FAQ
What should I wear and bring?
Wear comfortable clothing that is suitable for outdoor yoga.
Bring your own mat and water bottle.
Do not wear fragrances such as body lotion, perfume and cologne.  Alpacas have very sensitive noses and may not engage when strong scents are present.
What are your age restrictions?
Children younger than 16 must be accompanied by a paying adult
Participants must be at least 21 years of age to consume alcohol.
Can we pet the alpacas? 
Yes.  Who can resist?  They are like the teddy bears of the camel family.
How do alpacas behave during yoga?
Alpacas will be curious about you from a slight distance.  They will graze, lie down and watch you from close by.
Unlike goat yoga, alpacas will not climb on you or relieve themselves near you.
After the alpaca yoga session, they are quite happy to nibble treats from your hands.
Do alpacas kick? 
While rare, yes alpacas might kick when they feel threatened from behind.  Do not stand behind or beside an alpaca's hind legs.
Do alpacas spit?
Yes.  Alpacas spit at each other when they feel threatened or they are competing for food.  While it's rare for alpacas to spit at humans, we do occasionally get caught in the cross-fire.
How does weather affect our Alpaca Yoga Experience?  
We want your experience to be pleasurable.  In the event of inclement weather, we will either move indoors or reschedule the session.
"WARNING: UNDER TEXAS LAW (CHAPTER 75A, CIVIL PRACTICE AND REMEDIES CODE), AN AGRITOURISM ENTITY IS NOT LIABLE FOR ANY INJURY TO OR DEATH OF AN AGRITOURISM PARTICIPANT RESULTING FROM AN AGRITOURISM ACTIVITY." Texas Civ. Practice & Remedies Code 75A.003.